Tailgunners provide better performance, a louder, deeper sound, and fully rotating barrels. Our universal fit models are an easy custom installation on just about anything. They have a bracket on the back for support. Tailgunner universals are engineered to enhance performance and provide a louder, deep rumble. All models are made in America and are flawlessly finished. Tailgunner makes it easy to be original.
The 15″ Long FIGHTER is the model Orange County Choppers used on the "Patriot Bike." It is perfect for a variety of motorcycles. The FIGHTER is our best selling universal fit muffler and is great for V-Twins as well as sport-bikes and customs. The 4″ diameter canister is a universal fit muffler.  The FIGHTER is a very free flowing muffler. It does not contain a baffle and produces a deep, aggressive sound and great performance.
Right and left side orientation is determined by sitting on the motorcycle.
Length 15″ / Diameter 4.0″
Weight: 6 lbs. each
Inlet sizes to choose from: 1.5", 1.75", 2.0", 2.25″ and 2.5" (Note: Harley inlet size is 1.75″). To determine inlet size, simply measure the end of your exhaust pipe, where the muffler will slip on. Measure from left to right side, outside measurement.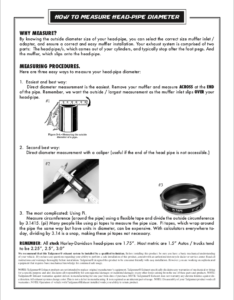 Click image for instructions on measuring the head-pipe diameter.
See the Fighter installed on a Victory Hammer

"Handcrafted" by Joe Lisjo. ft. Tailgunner Exhaust